Electric Chair Kickout Light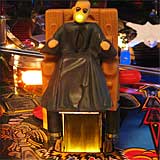 "It's not plugged in yet!" This interactive mod will light up your Electric Chair kickout opening with a yellow glow when the Chair will score a Mansion Room and a radiant red glow when it will start "Showtime!".
Each Electric Chair Kickout Light Assembly is individually handcrafted using quality materials. The Yellow and Red LED bulbs draw very minimal current and provide long life. Installation is easy with the included instructions. The lights are connected to the Electric Chair lights via a Molex connector. No permanent play field modifications, No Soldering, and No wire cutting is required.
This playfield addtion looks awesome when used with the Vault Lights (sold separately).